One of my favorite things to do is collect chapbooks. They're short, elegant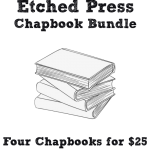 (and occasionally inelegant) collections of poems that I can read in one sitting. I get them at festivals, directly from poets, and online from small presses. I even publish them. One of my favorite ways to acquire chapbooks is through chapbook bundles. I thought it was about time that Etched Press joined a group of small/micro presses that also offer them. Our catalog might not be as extensive, but it is ever-growing.
Introducing Chapbook Bundles
Etched Press now offers a collection of four different chapbooks at one discounted price as chapbook bundles. The selected chapbooks will be shipped in one package. You can access the chapbook bundles in the Shop section of the website just like any other item.
Which titles are available in Chapbook Bundles?
Check back every season as more titles will be available soon.