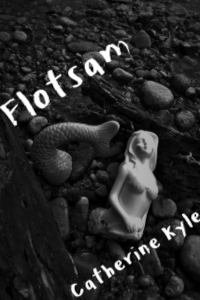 Flotsam by Catherine Kyle is a chapbook of poems.
ISBN: 978-1935847-05-2
---
"Kyle affirms women's stories, as well as womanhood in general. And, most pressing, a woman's firm, fierce desire to be her own person."
-H.L. Nelson, author of The Sea is Only Meat, on Catherine Kyle's Work
---
Catherine Kyle is a Ph.D. candidate in English at Western Michigan University, where she studies representations of artists' coming-of-age stories in contemporary graphic novels. Her hybrid-genre chapbook Feral Domesticity, which contains poetry, fiction, and paintings, was published by Robocup Press in 2014. You can read more about Catherine on her website: www.catherinebaileykyle.com.

Catherine Kyle