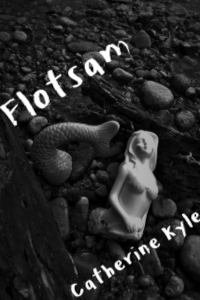 Flotsam by Catherine Kyle is a chapbook of poems.
ISBN: 978-1935847-05-2
---
"Kyle affirms women's stories, as well as womanhood in general. And, most pressing, a woman's firm, fierce desire to be her own person."
-H.L. Nelson, author of The Sea is Only Meat, on Catherine Kyle's Work
---
Catherine Kyle is the author of Fulgurite (Cornerstone Press, forthcoming), Shelter in Place (Spuyten Duyvil, 2019), and other poetry collections. Her writing has appeared in Bellingham Review, Colorado Review, Mid-American Review, and other journals. She was the winner of the 2019-2020 COG Poetry Award, a finalist for the 2021 Mississippi Review Prize in poetry, and a finalist for the 2021 Pinch Literary Awards. She is an assistant professor at DigiPen Institute of Technology, where she teaches creative writing. Her hybrid-genre chapbook Feral Domesticity, which contains poetry, fiction, and paintings, was published by Robocup Press. You can read more about Catherine on her website: www.catherinebaileykyle.com.
Catherine Kyle